"Books! And cleverness! There are more important things! — Friendship! And Bravery!"
— Hermione Granger
Hermione Jean[6] Granger was a character in the Harry Potter books by J.K. Rowling.
Hermione was a Muggle-born witch who found out she was a witch when she was eleven. She attended Hogwarts and she was a very academic and gifted student, very eager to show her intelligence, but unafraid to use her courage to stand up for what she thought was right. She was friends with Harry Potter and Ron Weasley, and they helped to save the wizarding world.
Biography
Early life
Hermione Jean Granger[6] was born in September 1979[1], the only child of Mr and Mrs Granger who were Muggles.[7] Her first name was chosen because they wanted to show how educated they were, a trait that Hermione inherited too.[8] At the age of eleven, she found out she was a witch and was accepted to attend Hogwarts School of Witchcraft and Wizardry. Hermione immediately began reading everything she could about the wizarding world.[7]
Philosopher's Stone
Hermione helped Neville Longbottom try to find Trevor on the Hogwarts Express. She found Harry Potter and Ronald Weasley's compartment. They found her rude and annoying because she was condescending towards Ron.[7] When she was about to go to the Sorting ceremony, she went through every spell in her memory in case she needed them. Hermione was sorted into Gryffindor, but the Sorting Hat thought about putting her in Ravenclaw.[4]
She proved that she was academically gifted, but her eagerness annoyed people, like Professor Snape.[9] However, she struggled to succeed in her Flying lesson. She was known to be very strict about the rules, and she tried to stop Harry flying without a teacher knowing to save Neville's Remembrall, which he did anyway.[10] Later, Hermione overheard Harry's plan to sneak out at midnight and duel Draco. She wanted to stop Harry and Ron, even staying up late to catch them trying to sneak out. She decided she had to go too and they noticed Filch trying to catch them. They run away to the out-of-bounds third-floor corridor and found Fluffy. She pointed out that Fluffy was guarding a trapdoor.[10]
On Hallowe'en, Hermione condescendingly told Ron the correct way to pronounce the Levitation Charm and he told Harry. Hermione overheard him and run away crying. She didn't attend the feast that evening when a troll was loose in the school. Harry and Ron saved her by using the Levitation Charm and knocked the troll out. Professor McGonagall shouted at them for searching for a troll, so she lied by telling she looked for the troll and Harry and Ron saved her. They and Hermione then started a friendship.[11]
Hermione started helping them with their homework, and lent Harry a book, Quidditch Through the Ages. At Harry's first Quidditch match, the Nimbus 2000 broomstick began bucking. Hermione searched for whoever was cursing the broomstick and deduced it was Professor Snape. It was actually Professor Quirrell and her efforts to stop Professor Snape knocked Professor Quirrell over and saved Harry, who won the game.[12]
Hermione thought that Snape was actually trying to kill Harry. She found out through Hagrid that Fluffy was guarding a secret of Dumbledore and Nicolas Flamel.[12] They attempted to search for information about Flamel and couldn't find anything. She went home for the holidays.[13] A few weeks later, she and Harry found a book about the Philosopher's Stone and deduced Fluffy was protecting it because Voldemort wanted to steal with the help of Professor Snape.[14]
In spring, she found out that Hagrid had a dragon egg, which she thought was a bad idea. They persuaded Hagrid to send a note to Charlie Weasley and let him take Norbert.[15] She and Harry took Norbert at midnight to the Astronomy Tower, and they were caught by Mrs Norris heading back to bed. Professor McGonagall gave them detention.[16]
The detention was held at night in the Forbidden Forest. Hagrid wanted them to search for a missing unicorn. She was teamed up with Hagrid and then Neville. Harry and Draco found the unicorn but a cloaked figure drinking it's blood tried to kill Harry. Harry was thought it was Voldemort, but Hermione told him he was safe under the protection of Dumbledore.[16]
Harry then decided to ask Hagrid who gave the dragon egg. He ownedup to being very drunk when he told a stranger how to put Fluffy to sleep. Knowing that someone was going to try and take the Philosopher's Stone, they set out to save it on their own. Neville tried to stop them and Hermione subdued him by using a Full Body-Bind Curse. Fluffy was sleeping, so they went through the trapdoor. They fell in a Devil's Snare and she panicked because she couldn't think of a way out. Ron encouraged her, and she thought of using bluebell flames.[17]
They eventually faced a giant chessboard, and Hermione was the rook in a game of wizard chess. Ron led them to victory, but he had to sacrifice the Knight and stay behind. Hermione and Harry continued and faced a potion challenge. She solved the riddle and deduced what potion he needed to take, but it only had enough for one person and she had to stay behind. Hermione and Ron headed back to tell the teachers[17] and Harry was successful in saving the Philosopher's Stone from Voldemort.[18]
Hermione got 110% in her Charms exam and she graduated top of her year.[17][18] She attended the End-of-Year Feast and was awarded House points, which helped Gryffindor win the House Cup for the first time in seven years, dethroning Slytherin. Hermione celebrated with her friends.[18]
Chamber of Secrets
Hermione spent the summer doing her schoolwork. She sent letters to Harry that were intercepted by Dobby. She and Ron were concerned about Harry because he didn't send anything back, so Ron sent her a letter telling her how he was going to go round to Harry's house and find out why. Hermione wrote back to Ron a few days later, telling him the date she was going to Diagon Alley. He and Harry decided to go that day too, and she introduced Harry, Ron and Ron's family to Mr and Mrs Granger.[19]
Harry, Ron and Hermione shopped for an hour together and had ice-creams. They later went to Flourish and Blotts, and Hermione was very excited to find out Gilderoy Lockhart was holding a book signing. However, she saw Harry and Draco arguing in the bookshop and intervened. Draco soon insulted Ron too, and Hermione had to hold Ron back when he tried to fight back. Arthur saw what was happening and started fighting Lucius until Hagrid broke it up.[19]
In September, Hermione was angry to find out that Harry and Ron had taken a flying Ford Anglia to school, and was frowning at them in the common room when everyone else was celebrating it for being "brilliant".[20] She was glad when Ron was sent a Howler.[21]
She was happy Lockhart was going to be a Professor at Hogwarts. During their first lesson, he showed her how incompetent he was but she was blinded by her crush on Lockhart. She passed a test he gave about himself, and he gave her ten House points for her work. When he unleashed pixies, he run away. She had to put them back using a Freezing Charm, thinking he did it on purpose so they could learn.[21]
Hermione and Ron watched Harry during Quidditch training the first Saturday of the school year. They saw the Slytherin team take control of the pitch to train their new Seeker, Draco. She taunted Draco by pointing out others got in for their talent instead of bribery, so Draco called her a "Mudblood". Hermione didn't understand the word, but everyone was upset and Ron tried to curse Draco using a Slug-vomiting Charm. It bounced back and hit Ron.[22]
Harry and Hermione had to take Ron to Hagrid's Hut for help and she learned what the word was. Hagrid told her that she shouldn't pay any attention to things like that, because she was a very skilled witch.[22] Hermione was asked to attend Nearly Headless Nick's Deathday Party which she looked forward to because living people don't attend. However she found it dull, and they decided to leave early. Harry heard a voice that she and Ron couldn't hear, and hunted it to a Petrified Mrs Norris hanging by her tail near a warning that "The Chamber of Secrets has been opened. Enemies of the Heir beware".[23]
Hermione began trying and find answers about what the Chamber of Secrets was, and she asked Professor Binns. Hermione soon noticed spiders acting strange and fleeing the school in a hurry. The school thought Harry was the Heir, so they worked together to think of a person who could be and Ron thought of Draco. Hermione hatched a plan to use Polyjuice Potion to speak to Draco under the guise of a Slytherin student and prove he was the Heir.[3]
Hermione persuaded Professor Lockhart to give her permission to get a book out the Library, and found a Polyjuice Potion recipe to search for the ingredients.[24] When she heard a student had been Petrified, she and Ron began putting the Polyjuice Potion together. Harry told her that the Chamber of Secrets had been opened for a second time according to Dobby, and thought Lucius had opened it the first time.[25]
She and her friends joined a Duelling Club founded by Professor Lockhart. Harry spoke Parseltongue in front of everyone for the first time, and she and Ron had to tell Harry why it was bad thing. She thought the school would think it was proof Harry was the Heir of Slytherin.[25] Hermione, Ron and Harry stayed at the school for the holidays when they heard that Draco was staying. Hermione had collected a piece of what she thought was Millicent Bulstrode's hair for the Polyjuice Potion, which was cat hair. It transformed her into a half-cat, half-human[26] so Hermione had to stay in the Hospital Wing until February.[27]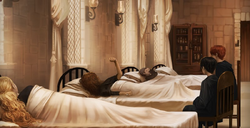 Harry found Tom Riddle's Diary, which she found out had named Hagrid responsible for first opening the Chamber of Secrets. They didn't say anything to Hagrid, deciding to do so if anyone else was Petrified. Hermione continued to research what the creature Petrifying people could be, concluding it was a Basilisk. She wrote down her findings on a piece of paper, and she used a mirror to get through the corridors. The mirror saved her because she crossed the Basilisk in a corridor, and was Petrified by its gaze through it.[28]
Hermione was actually a target of the Basilisk. Tom Riddle had worked out who Harry was, and thought he would continue searching for the Chamber of Secrets to help a friend.[29] Harry and Ron found her research and they used it to everything piece together[30], finding the Chamber of Secrets and saving the school.[29] She was brought back using a Mandrake Restorative Draught and was upset to hear that examinations had been cancelled.[31]
Prisoner of Azkaban
In June, Hermione was contacted by Ron to tell her she shouldn't phone Harry at Privet Drive, because Vernon Dursley had been very angry when he phoned.[32]
In July, she went on a holiday to France, and decided to do her whole History of Magic essay again to include what she had learned. She sent Harry a birthday card and a Broomstick Servicing Kit and hoped Harry would go shopping for school when she and Ron had planned to go.[32]
Appearance
Hermione had light skin[33][34], brown eyes[35], large front teeth and lots of bushy brown hair.[36] Her front teeth were later enlarged by a Densaugeo hex, but she had it put back shorter than they originally were.[37] Hermione looked tanned when she came back off holiday.[2] Her hair was long, but she was known to tie it back.[38] For special occasions, she used Sleekeazy's Hair Potion to tidy her hair, but she found it far too much work for everyday use.[39]
Notes and sources
↑ 2.0 2.1 Harry Potter and the Prisoner of Azkaban, Chapter 4
↑ 3.0 3.1 Harry Potter and the Chamber of Secrets, Chapter 9
↑ 4.0 4.1 4.2 Harry Potter and the Philosopher's Stone, Chapter 7
↑ 6.0 6.1 Harry Potter and the Deathly Hallows, Chapter 7
↑ 7.0 7.1 7.2 Harry Potter and the Philosopher's Stone, Chapter 6
↑ Harry Potter and the Philosopher's Stone, Chapter 8
↑ 10.0 10.1 Harry Potter and the Philosopher's Stone, Chapter 9
↑ Harry Potter and the Philosopher's Stone, Chapter 10
↑ 12.0 12.1 Harry Potter and the Philosopher's Stone, Chapter 11
↑ Harry Potter and the Philosopher's Stone, Chapter 12
↑ Harry Potter and the Philosopher's Stone, Chapter 13
↑ Harry Potter and the Philosopher's Stone, Chapter 14
↑ 16.0 16.1 Harry Potter and the Philosopher's Stone, Chapter 15
↑ 17.0 17.1 17.2 Harry Potter and the Philosopher's Stone, Chapter 16
↑ 18.0 18.1 18.2 Harry Potter and the Philosopher's Stone, Chapter 17
↑ 19.0 19.1 Harry Potter and the Chamber of Secrets, Chapter 4
↑ Harry Potter and the Chamber of Secrets, Chapter 5
↑ 21.0 21.1 Harry Potter and the Chamber of Secrets, Chapter 6
↑ 22.0 22.1 Harry Potter and the Chamber of Secrets, Chapter 7
↑ Harry Potter and the Chamber of Secrets, Chapter 8
↑ Harry Potter and the Chamber of Secrets, Chapter 10
↑ 25.0 25.1 Harry Potter and the Chamber of Secrets, Chapter 11
↑ Harry Potter and the Chamber of Secrets, Chapter 12
↑ Harry Potter and the Chamber of Secrets, Chapter 13
↑ Harry Potter and the Chamber of Secrets, Chapter 14
↑ 29.0 29.1 Harry Potter and the Chamber of Secrets, Chapter 17
↑ Harry Potter and the Chamber of Secrets, Chapter 16
↑ Harry Potter and the Chamber of Secrets, Chapter 18
↑ 32.0 32.1 Harry Potter and the Prisoner of Azkaban, Chapter 1
↑ Harry Potter and the Prisoner of Azkaban, Chapter 21 - "Hermione's white face was sticking out from behind a tree."
↑ In J.K. Rowling's sketch of the midnight duel, Hermione's skin was light and not shaded in, but the character to her left, Dean, was shaded in.
↑ Harry Potter and the Chamber of Secrets, Chapter 13 - "her eyes were turning slowly back to brown".
↑ Harry Potter and the Philosopher's Stone, Chapter 6 - she had "lots of bushy brown hair, and rather large front teeth.
↑ Harry Potter and the Goblet of Fire, Chapter 23
↑ Harry Potter and the Deathly Hallows, Chapter 4
↑ Harry Potter and the Goblet of Fire, Chapter 24